Deborah Conn works in transparent watercolor, collage, and other media Her favorite subjects are people.

In addition to original paintings, she offers reproductions of  her work as notecards and fine-art giclee reproductions.

For updates on Deborah's work, exhibits, and classes, please like her Facebook page,

Deborah Conn Artere to add text.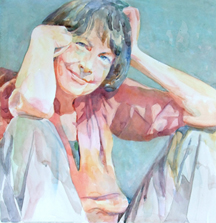 If you're in Northern Virginia, come see me at
Palette 22
restaurant. I'm an artist-in-residence there, so I'll be spending a number of fouir-hour shifts painting and chatting with guests.
My next two gigs are Friday, May 5, 4-8 p.m. and Sunday, May 7, 10 a.m. to 2 p.m.

If you're in the Virginina area, come see me at k here to add text.